[app_audio src="http://traffic.libsyn.com/smartpeoplepodcast/Episode2010220-20Dorie20Clark.mp3″]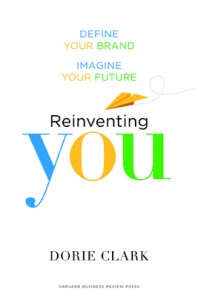 Dorie Clark – Author of Reinventing You: Define Your Brand, Imagine Your Future, former presidential campaign spokeswoman, professor at Duke University
WHERE was this book 10 years ago and why didn't anyone give me this advice.  Our guest this week, Dorie Clark, hits home with a powerful episode about becoming the person you want to be.  Although Dorie tends to focus more of her energy on helping people achieve their professional goals, her advice can be applied to just about any aspect of your life.  Her book, Reinventing You, reads like a step-by-step guide to getting to where you want to go, giving practical advice and real world examples.  The best part is, you don't have to sludge through a lot of nonsense just to get to the good stuff.  For example, just 6 pages in she posits a seemingly benign question that is anything but – she asks, "Why not take the time to think about how you'd like to be seen in the world and then work strategically to accomplish that, rather than waiting for life to happen to you?". You know what Dorie, that's a damn good question.  However, unlike many in the field who leave you with only questions, Dorie gives you recommendations on how achieve your professional and personal goals.
So first, we recommend (obviously) you listen to this episode where we get Dorie to give a great cliffs note edition of all of her sage advice and tactics.  But believe me – you are going to want more, at which point we highly recommend her amazing book.
Dorie Clark is a former presidential campaign spokeswoman, an author, a professor, a columnist and a business owner. She is a frequent contributor to the Harvard Business Review, Forbes, and the American Management Association's publications. She is also a columnist for Mint, India's second-largest business newspaper. She is a consultant and speaker for clients including Google, Yale University, and the World Bank, and is an adjunct professor of business administration at Duke University's Fuqua School of Business.