[app_audio src="http://traffic.libsyn.com/smartpeoplepodcast/Episode2010120-20Steve20Blank.mp3″]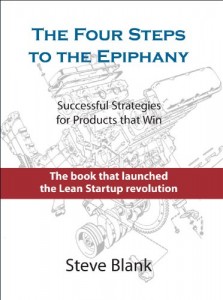 Steve Blank – Author of The Startup Owner's Manual and The Four Steps to the Epiphany, serial entrepreneur, professor.
This week we talk to a true pioneer in an industry filled with innovators.  Our guest, Steve Blank, created the "Lean Startup" model that helped facilitate the launch of over 10,000 companies.  This model states that startup companies are not merely small versions of large corporations, but are entirely different entities.  As such, startups must adhere to different rules and practices than those that work for an established business.  According to the Lean Startup model, startups are in the process of searching for a viable business model; hence the reason they are in the startup stage.  During the searching stage, the company must be willing to quickly pivot in order to adapt to their findings of what the market wants.  There are little to no established rules within the startup and positions are often ill-defined.  It takes dedication, passion, a willingness to fail (and get back up again) and a love of the unknown to survive in the startup world.  Individuals within a startup need to be comfortable with being uncomfortable in order to thrive.  Structure is a four letter word.  Once a business model is established, it proves to be profitable and also scalable, the company will eventually move on to becoming the established corporation.
The established corporation is quite different from the above defined startup.  Structure is what keeps the business running.  Everyone knows what they need to do and the better they can execute on their assigned tasks, the more successful they will be. In this stage, you need people who are reliable, detailed, and dedicated to replicating proven methods.
If this thought process seems like common knowledge to you, then you can thank Steve Blank for impressively discovering and explaining this model to the world.  If you don't understand this or haven't heard of this before – you'll be an expert after this week's episode!
Steve is the author of The Startup Owner's Manual and The Four Steps to the Epiphany.  Blank co-founded his 8th and last startup, the Customer Relationship Management provider E.piphany, in 1996 and retired the day before its IPO in September 1999. In 2005, E.piphany was acquired by SSA Global Technologies for $329 million. In 2012 the Harvard Business Review listed Steve as one of the "Masters of Innovation" and in 2013, Forbes listed him as one of the 30 most influential people in Tech. Steve writes weekly for the Wall Street Journal Accelerators blog and occasionally for Forbes, the Huffington Post and in Japan for NikkeiBP.  He currently lectures at the Haas School of Business, University of California Berkeley, Columbia University and the California Institute of Technology (Caltech).
—
This episode is brought to you by Bespoke Post – Bespoke Post is a monthly box-of-cool-stuff for guys. They call it the Box of Awesome.  Visit Bespoke Post at http://bespokepost.com/smart to get 20% off your first box!
Bespoke Post is a monthly box-of-cool-stuff for guys. They call it the Box of Awesome. From sweet cocktail sets to high-end shaving kits, the Box of Awesome delivers a different experience that guys will dig.
 The box costs $45 but the retail cost of the items in the box is always higher so you're always getting a deal.
 Here's how it works: You sign up and on the first of each month, Bespoke Post sends you an email with a description of that month's box. If you're not interested in that month's selection, you simply opt-out at no charge and wait for the following month. The choice is completely yours.