Welcome to Smart People Podcast! Thanks for checking out the website. We hope you are enjoying the podcast.  We spend most of our time behind the microphones getting to know other people, so we figured it was only fair to let you in on who we are. If you enjoy the podcast, follow us on Twitter: @SmartPeoplePod and Facebook: SmartPeoplePodcast!
Chris Stemp – Host & Creator
Chris is an entrepreneur, marketing expert and lifelong student. Having spent over 6 years as a financial analyst at a Fortune 100 firm, Chris traded the cubicle for the cutting edge and co-founded Smart People Podcast, LLC.
Once the podcast became successful and stable, Chris focused his entrepreneurial spirit on another passion of his and helped launch the United States Healthful Food Council (USHFC), a national, non-profit dedicated to decreasing food related disease. He currently operates as the Vice President of Marketing for the USHFC, while also concentrating on the growth of the podcast.
Chris is also a Senior Productivity Consultant with Franklin Covey. In this role he travels the country facilitating workshops on productivity, project management, and presentation skills with various companies and organizations.
Chris is a trained Life Coach through the Coaches Training Institute and semi-regularly presents to various organizations and associations on topics such as health, marketing, goals, and entrepreneurship. He currently lives in Northern Virginia with his wife Heather, his son Austin, his dog Bronx, and his cat Fiona.
Chris tries to keep up with his blog at www.chrisstemp.com and is planning on launching a new podcast in the near future!
Want to get in touch with Chris? Email him at chris (at) smartpeoplepodcast (dot) com.
---
Jon Rojas – Host & Creator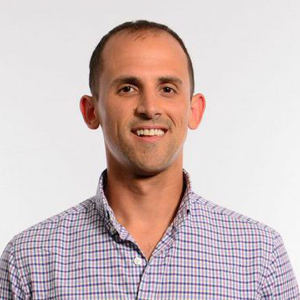 Jon considers himself a comedy and tech nerd and he doesn't care who knows it. He's always wanted to do an open-mic stand up show and has recently entered the improv scene. When he is not watching or listening to comedy, you can find him at a computer learning how to code.
Jon is Virginia born and raised. He received his undergraduate degree in marketing at James Madison University and worked for a "Big 4" consulting firm for the last 8 years. He recently quit a six-figure job to pursue his passions.
You can find Jon learning how to build websites and apps from the ground up. He is currently the Education Programs Manager in charge of the education programs at General Assembly and loves every minute of it!
Reach Jon on Twitter – @jonrojas or @SmartPeoplePod. Read what he has to say at jonrojas.com. Just want to say 'hi'? Shoot him an email at jon (at) smartpeoplepodcast (dot) com.