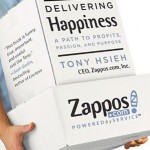 First, we at Smart People Podcast wanted to say welcome!  Many of you may be listening to us for the first time due to this week's fantastic guest.  If you want to expand your mind and hear all of our incredible interviews in the future, you can subscribe to us on iTunes here. Thanks for checking us out – feel free to contact us via the tab at the top of the page with any questions, comments or suggestions!
This weeks guest sold his first company to Microsoft for $265 MILLION when he was just 24 years old.  After dabbling in poker, day trading and venture capitalism he eventually went to work for a little known start up called Zappos.  This week's guest is Tony Hsieh – CEO of online shoe and clothing shop Zappos.com. In 1995, Hsieh (pronounced Shay) graduated from Harvard University with a degree in Computer Science. After college, Tony worked for Oracle but quit within 5 months to found a company called Link Exchange.  After just over a year creating Link Exchange Tony sold the company to Microsoft for $265 million.  Soon after, in 1999, Nick Swinmurn approached Tony with the idea of selling shoes online. Tony was initially skeptical, and almost deleted Swinmurn's initial voice mail. After Swinmurn mentioned that "footwear in the US is a 40 billion dollar market and 5% of that was already being sold by paper mail order catalogs," Tony decided to invest. Two months later, Tony joined Zappos as the CEO and within 10 years, Tony helped increase sales from virtually nothing to over $1bb annually while at the same time making Zappos one of Fortune Magazines best places to work for.  On July 22, 2009 Amazon.com announced the acquisition of Zappos.com in a deal valued at approximately $1.2 billion.
Zappos differentiates themselves by being incredibly dedicated to delivering the best possible customer service.  Their incredible corporate culture and kindness was evident in every and all conversations we here at Smart People Podcast had with the company.  We can promise they at least have 2 more customers for life!
Tony's book is Delivering Happiness: A Path to Profits, Passion, and Purpose.