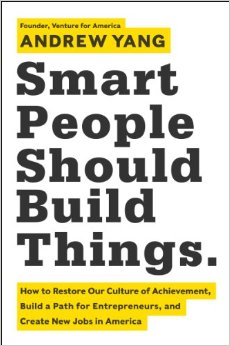 Andrew Yang – Author of Smart People Should Build Things: How to Restore Our Culture of Achievement, Build a Path for Entrepreneurs, and Create New Jobs in America. Andrew is the Founder and CEO of Venture for America, an organization dedicated to connecting promising recent graduates with startups with the hope of fostering a generation of entrepreneurs who can create economic value.
Venture for America will recruit the best and brightest college grads to work for two years at emerging start-ups and early-stage companies in lower-cost cities (e.g., Detroit, Providence, New Orleans). Modeled after Teach for America, Venture for America will provide a path for entrepreneurship to college grads who want to learn how to build companies and create jobs.The goal is that a substantial proportion of VFA Fellows will become successful entrepreneurs, preferably rooted in the communities to which they are assigned.
Andrew was recently named one of the "Top 100 Most Creative People in Business" by Fast Company.
Quotes from Andrew:
"Right now we are not giving our young people genuine choices.  The choices they are being presented with are financial services, management consulting, law school, med school, grad school, and Teach for America.  These choices will be the path for 65% of our top graduates."
"It's no mystery that so many people are heading down the well lit paths.  These are very much the paths of least resistance right now."
"The risks that we don't talk about are the risks of waking up and doing a job you don't like or waking up and not liking the person you see in the mirror.  These are the risks people don't tell you about."
"We need to repackage the way young people think about risk."
What we learn in this episode:
How do we encourage innovation and creativity as opposed to comfort and stability for recent graduates?
How do you transition from a career you don't like to a brand new field at any age?
What is the hardest part about starting a company and how do you overcome that?
Resources:
Smart People Should Build Things: How to Restore Our Culture of Achievement, Build a Path for Entrepreneurs, and Create New Jobs in America