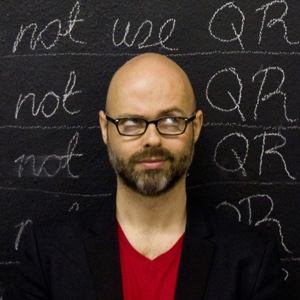 Dave Birss – How to be creative.
Creativity is surrounded by such mystique. It seemed so magical to the ancient Greeks that they attributed the moment of inspiration to muses rather than people. And in our modern work environment, regardless of your job title you are continually being asked to come up with creative solutions to new, complex problems. That's why it's important to understand that there is such thing as the creative process, and there's also a way to get it wrong. This week on the show, we interview creativity expert Dave Birss, and we ask him to teach us how to maximize our creativity in order to succeed in this constantly evolving economic landscape.
Dave is the author of the bestselling book, A User Guide to the Creative Mind: Understanding Where Ideas Come From and Helping You Have More of Them. He is also a former VP at one of the largest advertising agencies in the world, a sought after speaker and consultant, and he's recently launched a brand new web series called DayBeforeTomorrow.tv.
**The Kindle version of his book is currently $1.50 for a short period of time – don't miss out!**
"I want to be the most interesting person in the old-folks home. I want to have more interesting stories than any of the other wrinkly old 'gits' around me."
– Dave Birss
Quotes from Dave Birss: 
[shadowbox]"One of the things that happens when you work in large companies is you can only succeed according to the box that they have created to allow you to succeed within."
"Most of the techniques used these days (in the advertising industry) aren't very effective due to the amount of content out there."
"Do things that scare you – it's the only way you are going to grow."
"I don't believe in zero inbox. I believe in ignoring most things."
"There IS such thing as a bad idea."
"Brainstorms are a lazy waste of time. It's just a way for companies to be able to say that they have an entire team working on a problem."[/shadowbox]
What we learn in this episode:
How to multitask

What is "Western Creativity" and why Dave believes we need to look at it differently.

How do you enhance creativity in yourself and in a team?

What is the first part of the creative process?
Resources:
A User Guide to the Creative Mind: Understanding Where Ideas Come From and Helping You Have More of Them
Alcohol and Creativity….what? Check this out.