[app_audio src="http://traffic.libsyn.com/smartpeoplepodcast/Episode_128_-_Christian_Madsbjerg_and_Mikkel_Rasmussen.mp3″]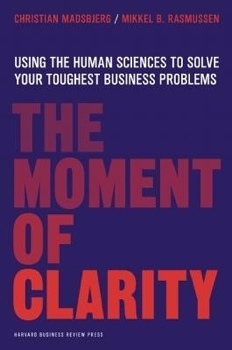 Christian Madsbjerg and Mikkel Rasmussen – The Moment of Clarity: Using the Human Sciences to Solve Your Toughest Business Problems, Co-Founders at ReD Associates where they employ social sciences to study human behavior.
Christian Madsbjerg has been leading projects and client programs since ReD's foundation. He writes, teaches, and speaks about the kinds of methods and reasoning needed for fact-based investigations of human activity, emotions, and decision-making processes. He is the author of books on social theory, discourse analysis, and politics.
Mikkel B. Rasmussen, a specialist in innovation strategy, is the Director of ReD's European division. Mikkel founded Mindlab, the first innovation lab for the public sector in Denmark. His work focuses on helping companies create and implement a direction for the future and figure out where and how to focus innovation. He's on the board of Copenhagen Clean Tech, numerous startups, and several design policy and management firms.
What we learn in this episode:
• What are the 3 most common types of problems a business can face and which ones are best solved with human sciences?
Problems that are known (algorithmic problems).  These can be solved with numerical analysis and spreadsheets.
Hypothetical problem.  You have seen the problem before and you can create a hypothesis and calculate your way back.
Unknown problems.  Problems that you aren't sure even exist, but you tend to know something is wrong. These can only be found out using human sciences and observation.
• Is yoga a sport?
Well, that decision is up to you.  But fitness is now 50% of the sporting industry and women are the largest consumer of sporting apparel.
• Why do consumers lie in focus groups?
Most people answer questions the way they would like to believe they act.  They would like to think they make rational decisions based on analysis.  However, science has shown us that the majority of the time this is not true.
• ReD makes sense of the culture outside a company utilizing 5 phases:
Ask the right question
Study consumers in their natural environment
Pattern recognition and analysis
Insight – what to do with the information gained
Make sure that the company can understand the recommendations and be ready to act on it.
• If you are a business, stop phrasing your question in business terms – phrase it in personal terms.  Turn it into a human question, something that people can experience.
Notable Quotables from Christian and Mikkel: [shadowbox]
"For our clients, we find out what the world is like from a person's perspective, as opposed to what the world is like from a spreadsheet's perspective."
"In many instances, using a spreadsheet to solve problem's is toxic because it will only tell you about the past and not about the future."
"It is very rare that people make decisions above the threshold of awareness – that we have full information and full transparency into our thought process."
"Asking a consumer what they want is probably the dumbest thing you can do. It's only in use that they can understand what they needed."[/shadowbox]