[app_audio src="http://traffic.libsyn.com/smartpeoplepodcast/Episode_126_-_Larry_Downes.mp3″]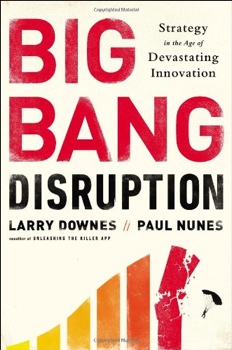 Larry Downes – Author of Big Bang Disruption and Unleashing the Killer App (named by the Wall Street Journal as one of the 5 most important books ever published on business and technology). Larry is an internet industry analyst and speaker, having held faculty appointments at Univ. of Chicago, Northwestern, Berkeley, and Stanford and he is a columnist for Forbes and CNET.
What we discuss in this episode
• What industries are PRIMED for innovation? The answer may surprise you.
• The nature of innovation has changed dramatically, in even the last 10 years.
• What industries should younger people consider working in to take advantage of the upcoming innovation?
• What can existing companies do to fend off new, more agile start-up companies?
Quotes we liked from Larry
[shadowbox]"Amazing technologies are on the cusp of becoming big bang disruptors – there are things we just can't even imagine."
"We used to refer to cars as horseless carriages – so it's funny now to talk about driverless cars. We don't even have the word yet for what they are going to be called."
"Innovation today is happening so fast, and new technology is both better and cheaper than existing technology – which provides for devastating innovation."
"There is very little consumer loyalty left. Combine this with the low barriers of entry in many industries and you create a very competitive business environment."
"With many companies, nothing appears to be wrong – until it is. Then you have a real problem."
"We believe, much of this technology improvement is sustainable, and it will bring up the standard of living all around the world."
[/shadowbox]
Resources for you
• www.larrydownes.com
• Big Bang Disruption: Strategy in the Age of Devastating Innovation
• Unleashing the Killer App: Digital Strategies for Market Dominance