[app_audio src="http://traffic.libsyn.com/smartpeoplepodcast/Episode_108_-_Daniel_Roberts.mp3″]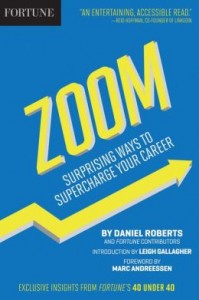 Daniel Roberts – Author of Zoom: Surprising Ways to Supercharge Your Career and the leading journalist for Fortune Magazine's extremely popular "40 under 40" list.
Although my 18 year old self would never admit it, there is of course plenty we can learn from those that come before us.  It is for exactly this reason that we started the podcast! Jon and I needed a way to speak with those rare individuals that have achieved high levels of success in their given field and to figure out their secrets.  So who better to interview than Daniel Roberts.
Daniel is the man behind Fortune Magazine's "40 under 40" list.  He heads a team that determines the top 40 most influential business executives under 40 years old.  One of the perks of the job is he also gets to interview many of these amazing people (sounds like a job we would like!). Well let's all say thank you to Daniel for sharing his insights with us in his newest book from Fortune Magazine, Zoom: Surprising Ways to Supercharge Your Career.  Listen in this week as Daniel gives us the inside track on on the best-kept secrets of top entrepreneurs, business leaders, and rising tech stars.
Daniel's recommended reads on the web: