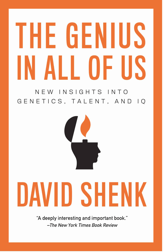 David Shenk – Bestselling author of 6 books, including his most recent, The Genius in All of Us: New Insights into Genetics, Talent, and IQ.
Tune in to this weeks episode to learn how to unleash your inner genius, conquer your genetic shortcomings, and be the best at anything. But trust us, it ain't easy.
Don't get mad at your parents because you have no athletic ability.  Don't curse your dad because he's tone deaf and that's why you can't sing – or your mom because she can't draw a stick figure and that's why you aren't an artist.  As we learn this week, the actual genes passed down to you are but a small fraction of what is needed to achieve greatness.
For decades people believed that amazing talent is the result of hitting the genetic lottery.  However, we are now beginning to understand that this couldn't be further from the truth.  You might be the strange love child of Andre Agassi and Serena Williams, but that far from guarantees you are going to be a great tennis player.  As a matter of fact, as we learn this week, if the above mentioned love child, let's call her Andrena, was adopted by an amish couple from rural Pennsylvania, there is almost zero chance she would ever become any type of professional athlete. The point I'm trying to make here is that we can now prove with near certainty that genes are merely a jumping off point that helps determine where our true strengths lie.  Much more important factors are things like where we are born, how we are raised, and what opportunities are available.   And perhaps the most important factor, is how hard you are willing to try.
Our guest this week is author, scholar, and speaker, David Shenk.  David is the award-winning and national-bestselling author of six books, including The Genius in All of Us, The Forgetting, Data Smog, and The Immortal Game. He is a popular lecturer, a short-film director, and a contributor to TheAtlantic.com. He has contributed to National Geographic, Slate, The New York Times, The Wall Street Journal, Gourmet, Harper's, Spy, The New Yorker, NPR, and PBS.
BONUS MATERIAL: