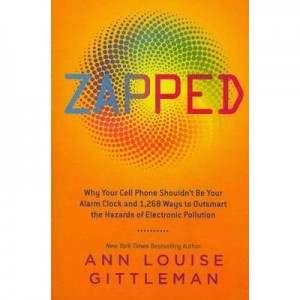 Ann Louise Gittleman – "The First Lady of Nutrition"
Consider your typical day.  You cook in your microwave, you call people on your cell phone, you work all day on your laptop – wirelessly connected to the world of the interwebs, you read books on your kindle, you listen to the radio in the car, you relax in front of the TV…the list goes on and on.  Electronics are an integral part of our lives, and we rely on them more and more every day.  There's no denying that these gadgets and gismos make life better; however, can all of this electronic pollution have a negative impact on our health? We here at SPP believe the jury is still out on this one, but it never hurts to get a little more information.  Take a listen to this week's episode and make the decision on your own.
This week we speak with author and nutritionist, Ann Louise Gittleman.   Ann Louise received her Master's degree In Nutrition Education from Teachers College, Columbia University. She earned a Certified Nutrition Specialist credential from the American College of Nutrition, a non-profit nutritionist organization, in 1993. Ann Louise has appeared on:  20/20, Dr. Phil, The View, The Early Show, Good Morning America, Extra, Fox News, PBS, CNN, Good Day New York, 700 Club and more.  Her most recent book is titled Zapped: Why Your Cell Phone Shouldn't Be Your Alarm Clock and 1,268 Ways to Outsmart the Hazards of Electronic Pollution.