[app_audio src="http://traffic.libsyn.com/smartpeoplepodcast/Episode_121_-_Maddy_Dychtwald.mp3″]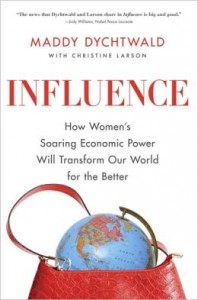 Maddy Dychtwald – Author of Influence: How Women's Soaring Economic Power Will Transform Our World for the Better, co-founder of Age Wave, world renowned speaker, leading expert on the changing demographic trends—both generation- and gender-related—shaping the marketplace, the workplace and our lives.
The aging of the workforce has been well publicized.  The baby-boom generation is reaching retirement and there is a supposed "talent gap" that is going to be problematic to our economy.  Talent gap? What about awesome young people! Well, let's hope these young people are awesome, because we are all going to be relying on them to fill some big shoes.  And as we have covered in previous episode, the younger generations are technologically savvy and very motivated; however, they also lack experience, and insist that things are done on their schedule, in their way.  Lucky for us all, we have a secret weapon that is helping us fill this talent gap and change the working landscape…women! The increase in women in the work place and in positions of power has really helped off-set the increase in retirees. This shift has not only helped fill the gaps, but has also greatly improved productivity and innovation – and Maddy is going to tell you how!
Maddy co-founded Age Wave, the nation's foremost thought-leader on population aging trends and their profound business, lifestyle and cultural implications.  The company provides breakthrough research, award-winning communications, and results-driven marketing and consulting initiatives to more than half of the Fortune 500. She has spent more than 25 years investigating and forecasting lifestyle and market trends of older adults and the 79 million baby boomers.  Building on this knowledge, she has recently emerged as a renowned authority on the rising economic influence of women and their impact on industries, ranging from financial services and healthcare to consumer marketing.
Her newest book, INFLUENCE: How Women's Soaring Economic Power Will Transform Our World for the Better explores how women are the major change agent of the decade to come.
A graduate of New York University, Maddy has been married for more than 25 years and has been a working mom living in the San Francisco Bay Area for much of her adult life.