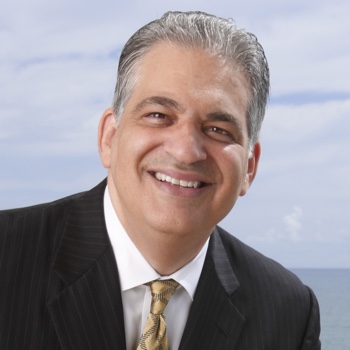 We have all heard the axiom, "It's better to give than to receive." And although it sounds good in theory, is it actually true? What about in the cut throat business of selling? Many people are arguing that the old days of pressure sales are gone and a new era is upon us, yet we are reluctant to believe it. If you've ever been in sales, you have probably felt the pressure of "convincing" someone to buy. Well this week you will learn not only how to improve your sales game, but to become successful in all areas of life while also adding value to the world. By following the 5 Laws of Stratospheric Success, you can tap into the natural rhythm of a free-market economy and achieve your goals. Our guest this week is Bob Burg, a sought after speaker and best-selling author. One of his most popular books, The Go-Giver has sold over 250,000 copies.
Bob Burg shares information on topics vital to the success of today's businessperson. He speaks for corporations and associations internationally, including fortune 500 companies, franchises, and numerous direct sales organizations.
Bob regularly addresses audiences ranging in size from 50 to 16,000 — sharing the platform with notables including today's top thought leaders, broadcast personalities, Olympic athletes and political leaders including a former United States President.
The Go-Giver shot to #6 on The Wall Street Journal's Business Bestsellers list just three weeks after its release and reached #9 on BusinessWeek. Since its release it has consistently stayed in the top 25 on 800ceoread's Business Book Best Seller List. It's an international bestseller and has been translated into 21 languages. It is Bob's fourth book to sell over 250,000 copies.
____
"Nobody is going to buy from you because you have a quota to meet. They are going to buy from you because there is more value in doing so than in not doing so."
– Bob Burg
Quotes from Bob:
[shadowbox]"The way life works is that the more value you provide for others, the more you're going to benefit. This works in a free-market based economy because no one is forced to buy from you."
"I define a system as simply the process of predictably achieving a goal based on a logical and specific set of how to principles. The key is predictability."
"Selling, by it's very nature, can be defined as discovering what someone wants, needs, or desires and helping them to get it. That's what selling is."
"Many people think selling is trying to convince someone to buy something they don't want or need. That's not selling, that's being a con-artist."[/shadowbox]
What we learn in this episode:
What are the keys to providing value?

How can you become a better salesman?

Should a boss aim for commitment or compliance? Why?

What are the 5 laws of stratospheric success?
Resources:
The Go-Giver: A Little Story About A Powerful Business Idea
Twitter: @bobburg
Bob recommends:
—
This episode is brought to you by:
Animoto: Visit Animoto.com/smartpeople and use promo code "SMARTPEOPLE" to get 15% off to receive 15% off an Annual Pro subscription!
Lynda.com: Do something good for yourself in 2015 and sign up for a FREE 10-day trial to Lynda.com by visiting Lynda.com/smartpeople.
Aspiration: At Aspiration, their investment strategies are built for the middle class. Signing up takes as little as $500 and five minutes of your time. You can sign up and find out more information at aspiration.com/smartpeople.