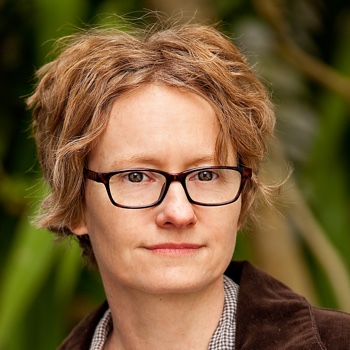 Did you know that the alcohol that gets you drunk in a beer or a cocktail is actually the waste products of billions of dead yeast organisms? Or that most of our crops were initially grown to make alcohol and only later were actually used for food? These are just some of the crazy facts that we learn this week as we interview New York Times Best Selling author, Amy Stewart. Amy is the author of 7 books, and perhaps her most popular is the one we focus on this week, The Drunken Botanist: The Plants That Create the World's Great Drinks. This fascinating concoction of biology, chemistry, history, etymology, and mixology will make you the most popular guest at any cocktail party.
Amy Stewart is the author of seven books. She has written six nonfiction books on the perils and pleasures of the natural world, including four New York Times bestsellers: The Drunken Botanist, Wicked Bugs, Wicked Plants, and Flower Confidential.  She lives in Eureka, California, with her husband Scott Brown, who is a rare book dealer. They own a bookstore calledEureka Books. 
Since her first book was published in 2001, Stewart has appeared on NPR's Morning Edition and Fresh Air, she's been profiled in the New York Times and the San Francisco Chronicle, and she's been featured on CBS Sunday Morning, Good Morning America, the PBS documentary The Botany of Desire, and–believe it or not– TLC's Cake Boss.
Amy has written for the New York Times, the Washington Post, and many other newspapers and magazines. She is the co-founder of the popular blog GardenRant.
____
"Next time you have a beer or a cocktail, just remember what you are drinking is the waste products of billions of dead yeast organisms."
– Amy Stewart
Quotes from Amy:
[shadowbox]"That's my whole point, all cocktails are "botanical" cocktails. Even beer is a botanical cocktail."
"A lot of plants, it turns out, were deliberately cultivated by humans probably for alcohol – but it wasn't just because they wanted to get drunk. It was also that drinking something with a little alcohol in it was safer because it killed the bacteria."
"A lot of the very first crops we were growing for agriculture were initially grown for alcohol and then later for food."
"Herbal liquors initially were definitely used for medicine. They started adding sugar to them hoping that their patients would be more likely to drink them, and pretty soon we're on our way to the modern cocktail being born."[/shadowbox]
What we learn in this episode:
How did humans discover alcohol?

How is alcohol made? 

What plants and/or grains are used to make each style of alcohol?
Resources:
The Drunken Botanist: The Plants That Create the World's Great Drinks
Amy's Favorite Alcohol:
—
This episode is brought to you by:
Lynda.com: Do something good for yourself in 2015 and sign up for a FREE 10-day trial to Lynda.com by visiting Lynda.com/smartpeople.
WealthFront: The automated investment service that makes it easy to invest your money the right way. Visit wealthfront.com/smartpeople to to get your first $10,000 managed for free.