[app_audio src="http://traffic.libsyn.com/smartpeoplepodcast/Episode_144_-_Branko_Milanovic.mp3″]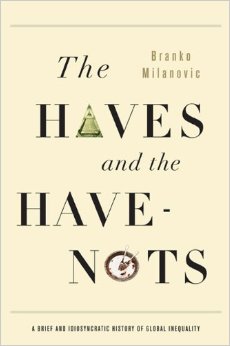 Branko Milanovic – Income inequality in the United States has been increasing since the early 1980's, and it's only getting worse. Perhaps even more worrisome is the continuing growth in the income gap on a global basis. The wealth gap between the richest and the poorest countries is becoming so large that our entire economic system is in danger.
This week we are joined by Branko Milanovic, the former head economist in the World Bank's research department as we discuss income inequality around the world and his most recent book, The Haves and the Have-Nots: A Brief and Idiosyncratic History of Global Inequality. The Globalist selected The Haves and the Have-Nots as number one on its "top books of 2011". Branko is also a professor at the University of Maryland and often writes for publications such as the Harvard Business review and The Economist.
"The system that is currently in place clearly benefits the people who are rich. But those individuals are not willing, nor are they motivated to change this system."
– Branko Milanovic
Quotes from Branko:
[shadowbox]"The gaps between the richest countries and the poorest countries today are much greater than they have ever been before in history."
"Capitalism is the only game in town, there are no other options.  I think this frustrates a lot of people because there are no alternatives that might help remedy this situation."
"North Korea is probably the most unequal country in modern history. There is a huge concentration of both wealth and political power that is bestowed upon only one man."[/shadowbox]
What we learn in this episode:
An astounding 60 percent of a person's income is determined merely by where that person was born.
Although income inequality is often thought of in terms of the relationship between rich and poor individuals in a country, the gap becomes increasingly more worrisome as you look at it from a global perspective.
As technological advances continue, the income gap will very likely continue to grow because cheap labor is replaced by technology and wealth goes straight to the company owners.
Resources:
The Haves and the Have-Nots: A Brief and Idiosyncratic History of Global Inequality
http://blogs.hbr.org/branko-milanovic/