[app_audio src="http://traffic.libsyn.com/smartpeoplepodcast/Episode_142_-_Adam_Bryant.mp3″]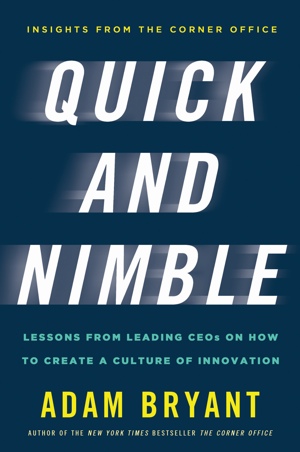 Adam Bryant – Don't you wish you could get inside the minds of the top CEO's in the world to learn the secrets of their success? That's exactly what our guest this week has done. Adam is the author of Quick and Nimble; Lessons from Leading CEOs on How to Create a Culture of Innovation. His book is a summation of many of the lessons and anecdotes he has learned through hundreds of interviews with top CEO's as part of his Corner Office' series in The New York Times. Prior to working at The New York Times, Adam was a senior writer and business editor at Newsweek magazine.
"The best CEO's don't have all the right answers, they have all the right questions."
-Adam Bryant
Quotes from Adam:
[shadowbox]"CEO's like people with desirable self-confidence. It's the sweet spot between humility and confidence."
"At the end of the day I think that leadership is very personal. We all have to make sense of it for ourselves based on a number of different unique factors."
"The combination of talents, skills, and qualities that you must have to be a leader are quite rare in our society.Although there are many differences amongst leaders, there are also many commonalities."
"One of the top qualities that I've noticed leads to success is what I call passionate curiosity. This is a relentlessly questioning mind."[/shadowbox]
What we learn in this episode:
Are CEO's born leaders or do they pick it up along the way?
How do CEO's lead inside their company as opposed to within their industry?
What qualities do CEO's have that explains why they get promoted all the way to the corner office?
Resources:
Quick and Nimble; Lessons from Leading CEOs on How to Create a Culture of Innovation
Corner Office' series in The New York Times