[app_audio src="http://traffic.libsyn.com/smartpeoplepodcast/Episode_131_-_Olof_Dallner.mp3″]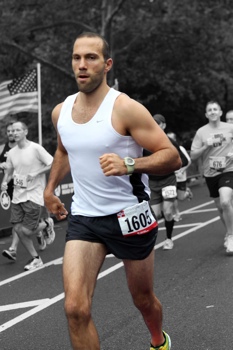 Olof Dallner – WINNER of the Quintuple Ironman. The 12 mile swim, 560 mile bike, and 131 mile run is the distance of 5 Ironmans! WTF? Olof explains what it is like to sleep 6 hours over 4 days while completing (and winning) the worlds toughest endurance event. Olof also has his PhD in Molecular Physiology and is currently a postdoctoral scientist at Rockefeller University, researching the genetics of the hormone Leptin and its role in obesity and metabolism.
[shadowbox]"I personally think that humans are better adapted to do things for a long time at a lower speed."
"Throughout evolution humans had to move over extremely long distances to find food and sustenance. We are more adapted to travel over long distances than even a horse."
"Sometimes even I can't comprehend the distance of what I'm doing. But you don't have to be an elite triathlete to do this – it's more about experience, knowing yourself, and knowing how to push yourself to keep going."[/shadowbox]
What we learn in this episode:
How do you deal with fear of failure?
Can the average person compete in long distance events?
How does the hormone Leptin affect body weight and body composition?
What are some scientific advances we are making now and what do we expect will happen soon regarding the fight against obesity?
Resources:
http://empiretriclub.com/blog/olof-dallner-wins-quintuple-ironman-2/