[app_audio src="http://traffic.libsyn.com/smartpeoplepodcast/Episode_111_-_Rosalind_Wiseman.mp3″]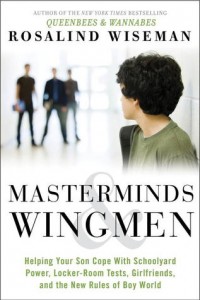 Rosalind Wiseman – Author of Masterminds and Wingmen and Queen Bees & Wannabes, which is the book that was used as the basis for the movie Mean Girls.  Rosalind Wiseman is an internationally recognized expert on children, teens, parenting, bullying, social justice, and ethical leadership.
The teenage years bring about a wide array of changes and challenges that make them some of the most difficult years in a persons entire life.  Experiences that occur in this stage of maturation can shape a person forever, for better or for worse.  These challenges have continued to gain main stream media attention recently as the topic of bullying has been brought to the forefront.  However, bullying is merely one part of the larger puzzle that comprises the confusing life of a teenager.  For any parent out there who is trying to connect with their child, for any sibling who wants to help out their brother or sister, or for any young person that feels like there are too many questions to be answered, this weeks episode provides some amazing insight on the crazy world of growing up.
Episodes like this one are exactly the reason why Jon and I started this podcast.  I don't know how we came across Rosalind, but all I can say is I'm glad we did.  Conversations such as this expand our knowledge of the world and the way people grow and mature. Pass this along to a friend who might need this advice, a parent who is struggling, or a young person who is confused.  If even one person finds a little bit of solace in the information covered in this episode, we will feel as if we have truly made a difference.
Over the past 2 decades, Rosalind has spent her life helping parents understand their kids, and helping kids understand themselves! Most famously the author of Queen Bees and Wannabes—the groundbreaking, fully revised edition of her best-selling book that was the basis for the movie Mean Girls—Rosalind Wiseman is an internationally recognized expert on children, teens, parenting, bullying, social justice, and ethical leadership. Her latest book, Masterminds & Wingmen serves the other side of the same coin – as Rosalind discusses the life of boys growing up.
National media regularly depends on Wiseman as the expert on ethical leadership, media literacy, and bullying prevention. She is a consultant for Cartoon Network's Speak Up, Stop Bullying Campaign and has been profiled in The New York Times, People, Los Angeles Times, Chicago Tribune, The Washington Post, and USA Today. Wiseman is a frequent guest on The Today Show, Anderson Cooper 360, CNN, Good Morning America, and NPR affiliates throughout the country. She also serves as an advisor to the US Department of Health and Human Services' Substance Abuse and Mental Health Administration.
—
This episode is brought to you by LearnVest – Get free money tips, tools and advice to help you make progress on your money.