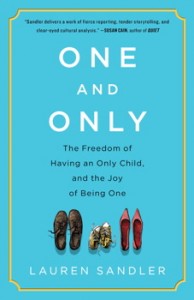 Lauren Sandler: Journalist, author of One and Only: The Freedom of Having an Only Child and the Joy of Being One
Roach wouldn't willingly admit it in the interview, and perhaps this is presumptuous, but I think we all have a negative bias towards only children…unless, of course, you are one.  I'm not saying it's a huge issue, but it's one of those things that lies beneath the surface and impedes our beliefs, regardless of it's a conscious decision or not. You all know that here at SPP, we like to back things up with facts.  So whenever I see an interesting book grounded in scientific evidence, I tend to gravitate towards it.  When I began to read Lauren's book, I quickly realized that only children are a group chastised based on out of date assumptions that are not at all grounded in facts.  Take this common generalization for example – because someone is an only child they obviously received too much attention early on and therefore will be attention seekers throughout life… right? WRONG – disproven with research.  Ok fine, but surely they are maladjusted without having the built in best friend of a sibling…right? WRONG! In this episode we give you the real facts behind what it means to be an only child, from the voice of a well respected journalist who has been researched it, been there, AND done that. And don't worry, "middle child syndrome" is the next thing on our radar!
Lauren's career in journalism began in the mid nineties at NPR in Washington, where she worked on All Things Considered, Morning Edition, Weekend Edition, and as a producer on the cultural desk. She left NPR to accept a fellowship at NYU's Cultural Reporting and Criticism master's program—where she now occasionally teaches—and transitioned into print.
She has written investigative reporting, features, opinion pieces, and personal essays on cultural politics for publications including Time, The New York Times, Slate, The Atlantic, Mother Jones, The Nation, The New Republic, Business Week, Elle, Marie Claire, The Guardian, Psychology Today, The Los Angeles Times, Salon, and The Big Money.
– See more at: http://laurensandler.com/