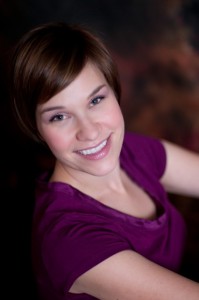 Christine Clapp – Presentation and communications expert, founder of Spoken With Authority
The ability to communicate through language is what separates man from ape (and all other mammals for that matter).  The spoken word is a defining trait of homo sapiens,  and as such, is our main method of communication.  It shouldn't surprise anyone then, that the ability to communicate effectively is one of the highest determining factors of success and happiness.  Whether it be convincing co-workers to lend you a hand on a project, interviewing for your dream job, or explaining to your wife why you got home at 3 am smelling of perfume and brandy, the way you converse with others is an art that needs to be practiced.  Lucky for you, this week we have one of the best in the business on the show to explain how to get your message across to the best of your ability.
Christine earned two degrees in communication: a bachelor's degree from Willamette University, where she debated at the national and international levels, and a master's degree from the University of Maryland, College Park.  Since 2001, she has taught public speaking to undergraduates and currently is a lecturer at The George Washington University.  Christine also served as a communications aide for five years on Capitol Hill.  An active member of the U.S. Senate chapter of Toastmasters International, she received the organization's highest distinction, Distinguished Toastmaster, in 2008, won a regional speech evaluation contest in 2007 and is a regular contributor to Toastmaster Magazine. Christine is the founder of Spoken with Authority, a consulting firm that allows others to communicate to their highest potential.
Show Snippets:
The 5 S's of presenting:
Stance: Stand wide and proud, take up as much space as possible
Sound: Don't be afraid to speak up! Really let your voice reverberate.  Don't be timid, you aren't speaking as loudly as you think.
Smile: A great smile puts everyone at ease and portrays confidence.  Don't forget to enjoy your time on stage.
Silence: Filler words are the worst.  Practice using silence rather than filler words such as um, uh, like, ya know, etc.
Sight: Make eye contact with the audience, bring them in to your talk, connect through direct eye contact.
3 Keys to a great elevator pitch:
Immediately explain how you solve a problem.  Try to stay away from using the word help, such as "We help people …"
Tell a signature story.  A brief personal anecdote that helps you connect with others.
Keep it short.
Christine's website: Spoken With Authority
Twitter: @christineclapp