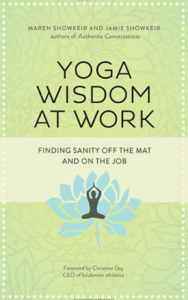 Maren and Jamie Showkeir – Authors of Yoga Wisdom at Work: Finding Sanity Off the Mat and On the Job, Yoga Instructor
As you might know by now, Jon and I like to focus on how terrible work is – perhaps it's because misery likes company. We get emails from many of you out in the rat race just like us, who are fed up and stressed out – but such is life.  That's why work is a four letter word.  But is it just us, or does work seem to get more difficult with every passing year?  It seems that with every new technological advance there is more to focus on.  There are 5 different social media platforms to keep up with, 3 different email accounts, 2 cell phones to answer, 2 monitors so that you can see twice as much… it's a never-ending competition to do more!  Our attention is being pulled in so many different directions, it feels like you never actually get anything done.  So at the end of the day you're exhausted and stressed, but your mind is still telling you that you didn't accomplish anything, nothing came off of your checklist – tomorrow you need to do better and be more focused. This kind of work life on a daily basis can put a huge strain on both our mind and our body.  It is for this reason that we could all use a quick lesson on how to incorporate one of the world's oldest practices, yoga, to find SANITY in an insane world of work.  You may be surprised to learn that yoga can teach you a whole lot more than just some funny stretches.
This week we interviewed the husband and wife team of Maren and Jamie Showkeir. Jamie is co-founder and owner of henning-showkeir & associates, inc., whose client list is extensive and varied. Jamie earned a BS in education from Miami University, where he was a scholarship athlete. He earned his MA in Educational Leadership from Eastern Michigan University. Maren joined henning-showkeir & associates, inc., in 2005 as a managing partner, where she has collaborated with people in numerous organizations of all types and sizes managing complex organizational change.  As a writer, teacher, and yogini, Maren is dedicated to helping individuals and organizations unleash their full potentials. She earned a BA degree in journalism from Arizona State University and a MA in Human and Organizational Development at Fielding Graduate University.
This week's episode is brought to you by 23andme.com. Head over to 23andme.com and order your 23andme.com DNA kit today for just $99!!
23andMe gives you the tools to better understand how your genes may impact your health. This helps you and your doctor find health areas to keep an eye on.
With over 240 personalized health, trait and ancestry reports, the 23andMe DNA kit is an important tool to help you understand your genetics.
23andMe results include a few fun data points, such as:  famous ancestors, how closely you are related to Neanderthals, why you may not like cilantro, how fast you metabolize coffee…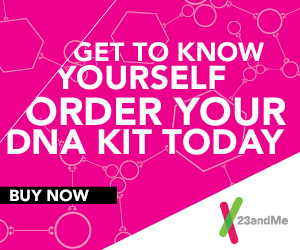 If this is something you are interested in, please make sure to take advantage of the offer through our show! Not only will you get to learn some cool information, but you'll also be helping the show.