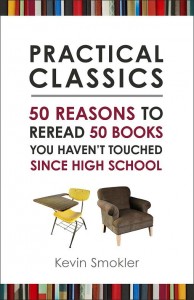 Kevin Smokler – Literary enthusiast, speaker, author of Practical Classics: 50 Reasons to Reread 50 books you Haven't Touched Since High School.
When you hear the name Holden Caulfield, does it trigger any memories? Perhaps you get a nervous, jittery sensation that runs down your spine as you reminisce about an old book report gone awry. Or maybe you are immediately transported to an easier, more carefree time in your life. A time when it was OK to hunker down in your room, not worry about the demands of life, and immerse yourself in a fictional realm. Or, just as likely, you have no idea what I'm talking about, which means you really never paid attention in school. Of course, Holden Caulfield is the teenage protagonist in one of the most popular 'high school novels' of all time – The Catcher in the Rye. A novel such as this truly is a piece of American history, but is it wasted on our youth? What I mean is, often times such amazing works of art are presented to students as yet another project to complete, another task to be tackled. By doing so, classics such as The Catcher in the Rye, often become something to conquer, rather than something to relish. So now that we are all grown up, mature, and worldly (yeah, I said it), we thought we should rehash the good ol' days and find out what the smart kids were reading when we were busy giving swirlies to the band geeks. Luckily, we found the perfect person for the job.
Kevin Smokler is the author of, Practical Classics: 50 Reasons to Reread 50 Books you Haven't Touched since High School. Called "a publishing visionary" by the Huffington Post, his writing on the arts and technology has appeared in the Los Angeles Times, Fast Company and on NPR. He's the editor of the anthology Bookmark Now: Writing in Unreaderly Times, which was a San Francisco Chronicle notable book of 2005.
As a speaker, Smokler has lectured throughout North America on the arts and their role in contemporary society at The Commonwealth Club of California, The Idea Festival, Book Expo America and universities such as Stanford and Johns Hopkins. He sits on the advisory board of the South by Southwest Interactive Conference where he has been a featured speaker since 2003. Kevin Smokler has a B.A. in Writing Seminars from Johns Hopkins University and an M.A. In American Studies from The University of Texas at Austin. A native of Ann Arbor, Michigan, he lives in San Francisco.