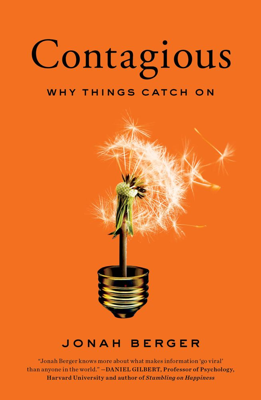 Jonah Berger – Assistant Professor of Marketing at the Wharton School, author of Contagious: Why Things Catch On.
Do you remember the first time you heard the song "Friday" by Rebecca Black? I do – I f'ing hated it.  I also remember the first time someone told me to listen to "Gangnam Style" and "Thrift Shop".  Now consider this, one song is a teenagers attempt at a real pop song, the other is a satirical Korean dance song, and the last is a catchy yet snarky rap song done by the new Eminem – they couldn't be ANY different.  But what do they all have in common? You guessed it – they all EXPLODED onto the scene in the past year beyond anyone's wildest dreams. How is this possible? The truth is, we live in a crazy world where you just can't tell what's going to catch on, and what's not….or can you?
This week's guest is here to tell you that there is a science, a REAL science, behind what goes viral and why.  You might be thinking, "Yeah, I'm pretty sure I've heard all of this before." Let us be the first to tell you – no, you haven't.
Our guest this week is Jonah Berger.  Just to give you a sneak peek into how bold he is, here's a quote from his most recent interview with Fast Company magazine, "Fifty percent of 'The Tipping Point' is wrong.  My job is to show you which half." In an amazing episode, Jonah tells us how there are 6 core factors that determine if an idea, product, or item, is going to stick out of the crowd and achieve the "viral" status. You literally can't afford to miss out!
Jonah Berger is the Assistant Professor of Marketing at the Wharton School at the University of Pennsylvania. He has published dozens of articles in top-tier academic journals, and popular accounts of his work have appeared in places like The New York Times, the Wall Street Journal, The Washington Post, Science,Harvard Business Review, Wired, BusinessWeek, and Fast Company. His research has also been featured in The New York Times Magazine's annual "Year in Ideas" issue. Berger has been recognized with awards for both scholarship and teaching, including being named Wharton's "Iron Prof." At Wharton, he teaches an elective called Contagious: How Products, Behaviors, and Ideas Catch On.