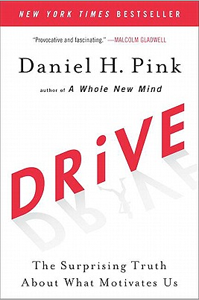 Daniel Pink – AMAZING! One of the most watched TED Talks of all time.  Author of five provocative bestselling books about the changing world of work, including his most recent, To Sell is Human.
Good to have you back! If you haven't noticed, Smart People Podcast has been getting some real recognition these days! We recently ranked as high as #10 on iTunes overall and had a nice little reign as #1 in education for a couple of weeks.  Why am I telling you this? Well aside from pure excitement, I'm telling you this because I think after this weeks episode, there is a chance we go even higher.  This might just be, THE BEST interview and guest we have ever had on.  I know, I know – if you've followed the show for a while, that's a big claim.  But trust me, we cover a lot of ground this week as we sit down with one of my favorite authors!
I first found Dan Pink when I read, Drive: The Surprising Truth About What Motivates Us. This book spoke directly to me. If you've ever wondered why your job feels so unfulfilling, this book can give some terrific insight.  In essence, Dan posits that humans seek 3 fundamental things in order to feel motivated:
Autonomy: People want to have control over their work.
Mastery: People want to get better at what they do.
Purpose: People want to be part of something that is bigger than they are.
Dan gives a great summary of his book in one of the most watched TED talks of all time – you can watch the video below:
After reading Drive, I caught up on Dan's first 3 books, as I eagerly awaited the release of his most recent best seller, To Sell is Human: The Surprising Truth About Moving Others. My favorite takeaway here is that sales no longer needs to be considered a four letter word.  Although the idea of a salesman might conjure up images of cheap suits and used cars, Dan explains in convincing fashion, that those days are long gone.  In a world of information overload, the seller and buyer stand on the same base of knowledge, so the slick sale has given way to relationship building and value add – things that we can all get behind. I could go on and on, but instead I'll let you move on to an amazing episode.
Dan received a Bachelor's degree from Northwestern University, where he was a Truman Scholar. He later received a Juris Doctor (JD) from Yale Law School, where he served as editor-in-chief of The Yale Law & Policy Review – although he is quick to point out, he has never practiced law.  Prior to becoming an author, Dan worked for Vice President Al Gore in the capacity of chief speechwriter.