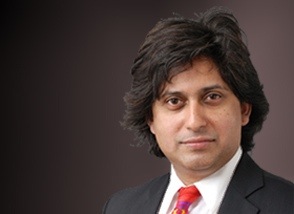 Dr. Srini Pillay – Neuroscientist, Psychiatrist, Executive Coach…amazing. The human brain is a miracle, no one can question that.  The brain is the source of all of our cognition.  It stores our memories, it creates our identity and it interprets the world in which we live.  It's also a mechanism that can be exercised and fine tuned to help us reach our greatest potential.  But how the heck does it work? I mean, thinking about thinking is damn near impossible. That's why we leave it up to experts such as this week's guest Dr. Srini Pillay.
After graduating as the top medical student in his class, Dr. Pillay trained in Psychology at McLean Hospital (the nations top psychiatric hospital) and Harvard Medical Institute.  He graduated as the resident with the most number of awards at any training program at Harvard Medical School and one of the top three award winners in the US.  He was also the Founder and Director of the Outpatient Anxiety Disorders Program at McLean Hospital.  He has also authored numerous books including, Your Brain and Business and, Life Unlocked: 7 Revolutionary Lessons to Overcome Fear.  So needless to say, he's got a little bit of experience on his side. Join us as we blow your mind…er…brain.
Please check out his website! http://srinipillay.com/
Tackled this week:
What motivates people to be more productive?
Harmonious Passion vs. Obsessive Passion
How do you use the science behind the brain to improve leadership skills?
AND MORE!