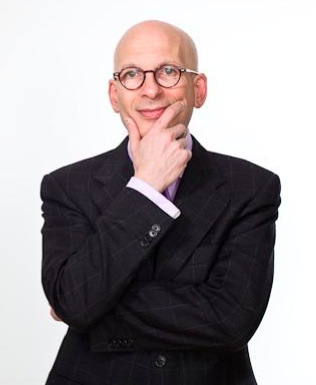 A lot of the ways companies reach you on a daily basis can be tied back to one man.  This same man was recently dubbed "America's Greatest Marketer" by American Way Magazine.  Well, it just so happens that this week we had a chance to interview this man – his name is Seth Godin.  Seth is a fantastic author who has written thirteen books that have been translated into more than thirty languages. Every one has been a bestseller. He writes about the post-industrial revolution, the way ideas spread, and marketing. His book Free Prize Inside was a Forbes Business Book of the Year in 2004, Purple Cow sold over 150,000 copies in more than 23 printings and The Dip was a Business Week and New York Times bestseller. His most recent books, Linchpin and Poke the Box are both remarkable reads.
Seth is also a serial entrepreneur, having founded numerous companies such as Yoyodyne and Squidoo.com.  Born in Mount Vernon, New York, Seth Godin graduated from Tufts University in 1979 with a degree in computer science and philosophy. Godin earned his MBA in marketing from Stanford Business School.
For more info on Seth, please visit his site: http://www.sethgodin.com/sg/bio.asp.