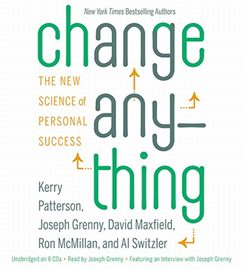 This week's episode is one that we probably should be airing closer to the New Year.  See, most people start off the new year with lofty goals for the future – the infamous new years resolution.  However, we all know the problems with these.  Come March, that beer gut is still highly visible, those cigarettes are still just as addictive and that treadmill is still just as annoying.  Well this week, we here at Smart People Podcast arm you with the tools to make those resolutions reality.
This episode we interview Kerry Patterson, author of Change Anything: The New Science of Personal Success. Cofounder of VitalSmarts, Kerry has coauthored four New York Times bestselling books as well as designed the company's line of award-winning training programs. He received the prestigious 2004 BYU Marriott School of Management Dyer Award for outstanding contribution in organizational behavior. He also did his doctoral work in organizational behavior at Stanford University.
Based upon the latest research in a number of psychological and medical fields, the authors of CHANGE ANYTHING will show that traditional will-power is not necessarily the answer to these strivings, that people are affected in their behaviors by far more subtle influences. CHANGE ANYTHING shows how individuals can come to understand these powerful and influential forces, and how to put these forces to work in a positive manner that brings real and meaningful results.