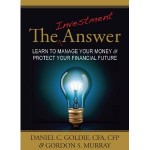 When Wall Street veteran Gordon Murray told his good friend and financial advisor, Dan Goldie, that he had only six months to live, Dan responded, "Do you want to write that book you've always wanted to do?" The result is an incredible book titled, The Investment Answer.  This week we interview the co-author of this book and founder of his own Financial Services Company, Dan Goldie.  In this episode Dan shares some of his financial wisdom so that the rest of us won't be so lost. Dan discusses his take on where to put your money, investing in international markets and if you should invest in gold or other precious metals.
For nearly two decades, Dan has devoted his professional career to helping individual investors and their families realize their investment and financial goals.  A former NCAA singles champion, Dan began his investment career as an independent financial advisor in 1991 after retiring from the men's professional tennis tour, where he was ranked as high as 27th in the world.  Today, Dan is one of the leading independent advisors in the wealth management industry. He has been recognized by the San Francisco Business Times as one of the top 25 Bay Area independent advisors, and by Barron's Magazine as one of the top 100 independent financial advisors in the United States.
Dan holds an A.B. in economics from Stanford University and an M.B.A. from the Walter A. Haas School of Business, at the University of California at Berkeley. He is a member of the CFA Institute and the CFA Society of San Francisco and has earned the Chartered Financial Analyst designation, and is a CERTIFIED FINANCIAL PLANNER™ certificant.
For more information on Dan's book: http://www.theinvestmentanswerbook.com/
For more information about Dan's services: http://www.dangoldie.com/index.html