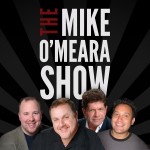 Due to Jon's love of the radio and podcast industry, we reached out to Robb Spewak of The Mike O'Meara Show podcast and he agreed to an interview. Robb has been in the radio industry for over 15 years and is currently on The Mike O'Meara Show Podcast. They have had unprecedented success with the show, as they have been downloaded over 4 million times in over 145 countries.
Check out their show at www.mikeomearashow.com and subscribe to the show on iTunes. You can also catch Robb spinning records on Robb Radio which airs on KCJJ.
We hope you enjoy the interview as much as we did!