[app_audio src="http://traffic.libsyn.com/smartpeoplepodcast/Episode_147_-_Shamus_Khan.mp3″]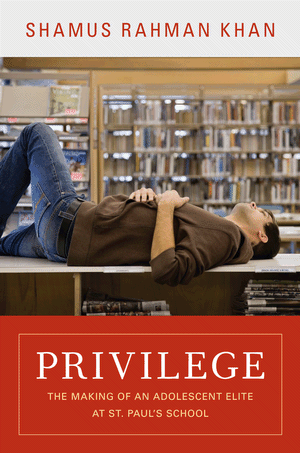 Shamus Khan – What is it really like to be the 1%? The income gap is a hot topic these days, but rarely do we learn what it is truly like to grow up in a world where money is no object. This week we get a behind the scenes look at how the American elite are raised and what it's like to be part of 'high society'.
Shamus Khan teaches in the sociology department at Columbia University.  He writes on elites and inequality in America.  He is the author of Privilege: The Making of an Adolescent Elite at St. Paul's School. He recently served as an opinion columnist for Time Magazine and continues to write about sociology in popular press.  With Dorian Warren, he is the director of a Russell Sage Foundation working group on "The Political Influence of Economic Elites" (which is very cool!).
" The reality of the American condition is that we are one of the most unequal of the developed nations."
– Shamus Khan
Quotes from Shamus:
[shadowbox]"If you think about inequality by looking at poor people, you are suggesting that there is something wrong with poor people that is making them poor."
"Inequality is a relationship.  It is the gap between the rich and the poor."
"We don't think of a good life independent of a life where you make a lot of money.  This monetary anxiety is an important aspect of understanding the present situation in the United States."
"We want to feel unique and different from others in a society, and the easiest way to do that is through our income – the value we can extract in our employment."[/shadowbox]
What we learn in this episode:
What exactly is inequality?
What is the tie between money, value, and self worth?
How do wealthy people think through the experience of wealth?
Do the rich truly earn their money, or is it often just a set of lucky circumstances?
Resources:
Privilege: The Making of an Adolescent Elite at St. Paul's School
http://shamuskhan.wordpress.com/
The Political Influence of Economic Elites (Russell Sage Foundation)
—
This episode is brought to you by:

99Designs: Go to 99designs.com/SMART to get a $99 Power Pack of services for FREE today!