[app_audio src="http://traffic.libsyn.com/smartpeoplepodcast/Episode_134_-_Carrie_Schwab-Pomerantz.mp3″]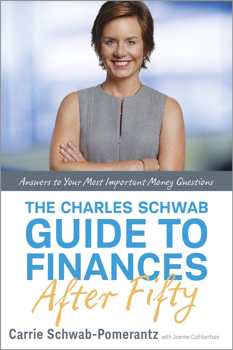 Carrie Schwab-Pomerantz – President of the Charles Schwab Foundation, Senior Vice President at Charles Schwab & Co., and the daughter of Charles Schwab! Her newest book is The Charles Schwab Guide to Finance After Fifty: Answers to Your Most Important Money Questions.
This week we discuss what it was like for Carrie growing up, how finance was in her blood, her deep understanding of the tough financial questions and what you can do to tackle your toughest money issues at any age. Through Carrie's popular "Ask Carrie" columns, her leadership of the Charles Schwab Foundation, and her work across party lines through two White House administrations and with the President's Advisory Council on Financial Capability, she has become one of America's most trusted sources for financial advice.
Quotes from Carrie:
[shadowbox]"I want to do everything – there are so many interesting things out there. But the trick is to have a bigger vision for yourself.  You need to know what you want, what you want to achieve, and the impact you want to have."
"My dad built Schwab entirely on the idea of democratizing investing, and I think that is just in my genes."
"Young kids are not taught about finance at home, they aren't taught about finance in school, and we as a society need to do a better job of getting these young people on the right foot.  They have time on their side, and that is hugely important in finance."[/shadowbox]
What we learn in this episode:
How Carrie deals with work, life balance?
What was it like watching Charles Schwab & Co. grow from a one man company to the financial massive company that it is today?
What is the single most important financial advice you give people on a daily basis?
What does Carrie personally believe is the future of Social Security?
Resources: